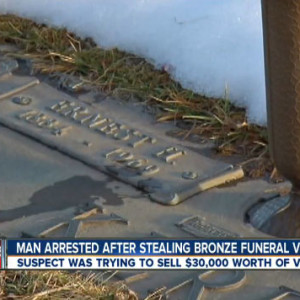 Man arrested in theft of $30,000 worth of bronze gravesite vases from Fairmount Cemetery in Denver
6:17 PM, Feb 19, 2015 | TheDenverChannel.com
In the week of February 12th, 2015, a person reported to police investigators at Denver Police District 3 Station that:
"over the past year there were well over 200 headstone vases stolen from Fairmount Cemetery…"
As the investigation went on, the police notified nearby metal recycling facilities and asked them to report anyone bring in any number of bronze vases to be sold for their scrape metal value.
» Read more about: $30,000 Worth of Bronze Vases Stolen from Gravesite »
Posted In: Cemetery Theft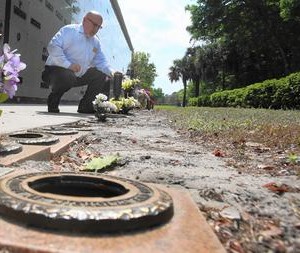 March 16, 2015 | OrlandoSentinel.com
In the February and March of this year, about 300 bronze vases were taken from graves at the Woodlawn Memorial Park and Funeral Home in west Orange County.
The total value of the stolen vases stolen from cemetery is estimated to be worth $13,500.  These thefts set off an alert to law-enforcement and also to scrap metal buyers within 150 miles of Woodlawn in a hope they could assist deputies in finding the thieves and stop the illegal sell of the desirable metal.
» Read more about: Vases Stolen from Cemetery: Woodlawn Memorial Park »
Posted In: Cemetery Theft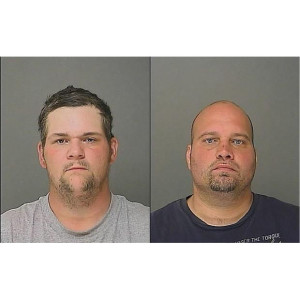 The police in Hamilton, New Jersey arrested two men believed  responsible for stealing a large number of bronze vases and urns from two cemeteries in town.  It is believed the suspects have perpetrated other thefts of this type in other parts of Mercer County.
Authorities say the two men stole 200 of the bronze markers on three separate occasions at the Greenwood and Colonial Cemeteries.   Police said the bronze pieces were valued at $300 apiece,
» Read more about: Urns and Vases Stolen from Cemetery »
Posted In: Cemetery Theft